SASI, AFJROTC/NC-941/Trinity High School
336-861-6870 (ext 205) classroom, (232) office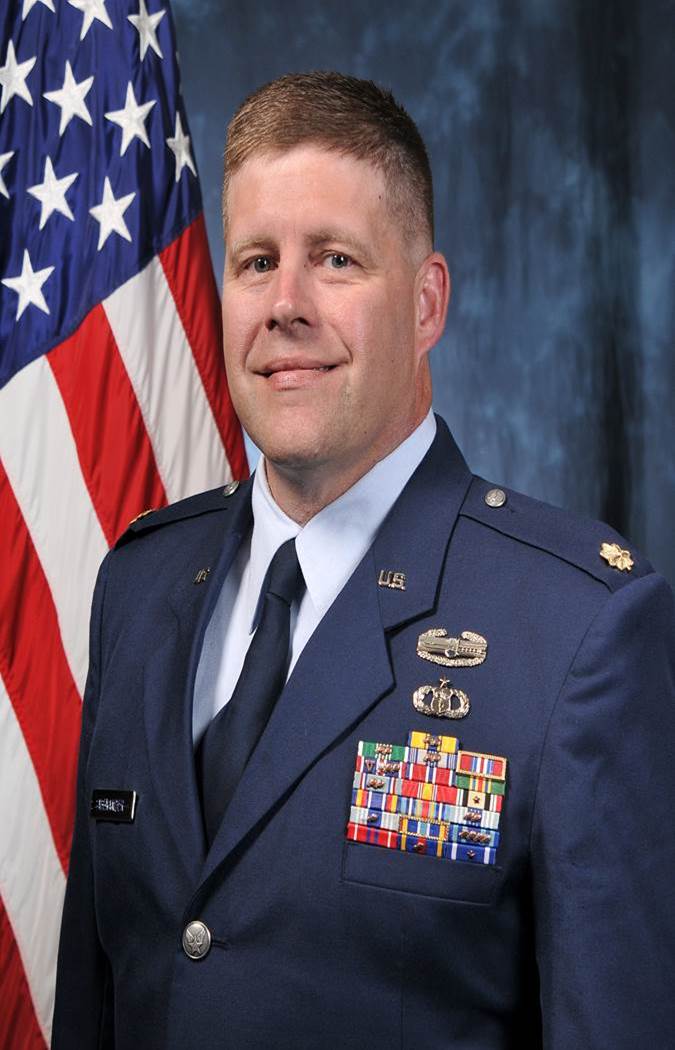 BIO
Maj (ret) Troy E. Alexander has been a member of the Trinity High School staff for the past three years in the school's AFJROTC Program as the Senior Aerospace Science Instructor (SASI). Maj Alexander has over 21 years of experience in US Air Force. His first seven and half years were as an enlisted member and last 14 were as an officer. Maj Alexander is a graduate of High Point university (Class '93) with a B.A. in English Communications (Journalism) and received his M.A. in Education in '09 (Curriculum and Instruction). Maj Alexander enlisted in US Air Force on 24 January 1996. He was a Weather (Wx) Observer/Forecaster (1W0X1). As an enlisted member, he provided mission critical weather information for Army and Air Force Aircrews to complete their mission in European and U.S. area operations. He was also lead weather forecaster who provided vital weather information for all mission departing Lawson AAF (Ft Benning) which was the primary departure point for all Army Personnel and Equipment during OPERATION ENDURING FREEDOM. He also, deployed on two occasions to support army operations during OPERATION JOINT ENDEAVOR. On 1 Oct 02, Maj Alexander was selected for Officer Training School and commissioned on 21 Dec 02. From 21 Dec 02 – 1 Sep 17, as an officer in USAF, Maj Alexander held several position as Staff Weather Officer, Flight and Detachment Commander and also as an Instructor for six years as well. During this time, he singled handedly installed a new weather position in a Mobility Operations Task Force that never had weather position beforehand. He volunteered to go to a unit that was short a Wx flight commander and lead a weather team straight into a combat zone shortly after arriving with his Wx team supporting combat operations with the 172d Stryker Brigade Combat Team (SBCT). Also, his Wx team provided mission critical weather information to Army Aircrews in rugged Alaskan AO. Less than a year after returning supporting operations in Mosul, Iraq during OPERATION IRAQI FREEDOM. His Wx team proved vital as they had large combat operation delay for 48 hours as a dangerous sandstorm moved through region at time operations were supposed to have been underway which saved many lives as a result. Maj Alexander volunteered to return to the Iraqi AO as Flight Wx Commander for 25th Combat Aviation Brigade less than a year after returning from previous deployment. His 8-person Wx team would support more than 600 Combat missions per day and 100 Brigade Combat Missions in the eight-month deployment with not a single aircraft being lost due to Wx related impacts. He was also hand-selected by 7th Weather Squadron Commander to become the Detachment Commander for Det 5, 7th Wx SQ to help transition the unit from a separate detachment, from its lead Weather Squadron, to being incorporated into the squadron as the Squadron moved from its Heidelberg location to Wiesbaden, Germany. Maj Alexander also used his vast experiences, throughout his Air Force Career, to help instruct new up and coming AF Officers as an Instructor/Flight Commander at the Air and Space Basic Course (ASBC). During this time, he also volunteered to return to Iraq and help instruct Iraqi Officers at the Iraqi Air Force Academy and act as liaison/mentor to the future Iraqi Airfield Operations Commander of Tikrit AB (COB Speicher) transition of equipment and operations. To complete his final AF tour, Maj Alexander was selected to become an English Instructor at the US Air Force Academy Preparatory School to help mold cadet-candidates (c/c's) into becoming AF Academy cadets and future AF officers. During this time, he taught students to become better communicators (written and verbal), and he instilled work ethic, dedication and team work into his cadet-candidates. He was also a mentor who helped guide his students to find the best fit for each student whether it was to be as a cadet at the AF Academy or finding it elsewhere. He played a key role in helping twelve c/c's who were considering dropping out of course to stay and are now are vital contributor for their cadet squadrons and/or sports teams at the Academy, but he also helped eight other c/c's find another path as some transferred to other schools and joined ROTC units or enlisted into the AF or Army to help provide for their families.
Here are a listed of Positions and Duty Locations Major Alexander held/served during his 21+ years in AF:
n Jul 14 – 31 Aug 17 – English Teacher/US Air Force Academy Preparatory School, USAFA, Colorado Springs, CO
n Jul 11 – Jul 14 – Det 5, 7th Weather Sq. Commander & European AO Weather Operations Chief /Wiesbaden Army Airfield (AAF), Germany
n Jul 08 – Jul 11 – Flight Commander & Training Instructor/Air and Space Basic Course, Maxwell AFB, AL
n Mar 05 – Jul 08 – Flight Commander, 3 ASOS/Ladd AAF, FT Wainwright, AK
n Jan 05 – Mar 08 – Wing Weather Officer, 615 Air Mobility Operations Squadron/Travis AFB, CA
n Oct 02 - Dec 02 – Officer Training School/Maxwell AFB, AL
n Nov 00 – Sep 02 –Weather Forecaster/Lawson AAF, FT Benning, GA
n Jun 00 – Nov 00 – Weather Forecasting School/Keesler AFB, Biloxi, MS
n Nov 98 – Jun 00 – Weather Observer/Shaw AFB, Sumter, SC
n Aug 96 – Nov 98 – Weather Observer/Katterbach AAF, Ansbach, Germany
n Mar 96 –Aug 96 – Weather Observing School/Keesler AFB, Biloxi, MS
n 24 Jan 96 – Mar 96 – Basic Military Training School/Lackland AFB, San Antonio, TX
Deployments:
n Sep 10 – Apr 11 -- Air Liaison Officer to Iraqi Air Force Academy and Airfield Commander/COB Speicher (Tikrit), Iraq
n Feb 07 – Aug 07 – Aviation Weather Operations Commander, 25th Combat Aviation Brigade/COB Speicher (Tikrit) Iraq
n Aug 05 – Mar 06 – Weather Operations Commander, 172d Stryker Brigade Combat Team (SBCT), FOB Courage, Mosul, Iraq
n Sep 00 – Nov 00 – Forward Deployed Wx Observer, 506 Battalion, 31st Infantry Reg.10th Mtn. Div., Camp Demi, Bosnia-Herzegovina.
n Mar 97 – Jul 97 – Forward deployed Wx Observer 5th Aviation Brigade, 1st Div. and British Royal Army Air Corps., Banja Luka, Bosnia-Herzegovina.
Training:
n Basic Military Training -- Jan-Mar 96
n Weather Observing School -- Mar 96 –Aug 96
n Weather Forecasting School – Jun 00 – Aug 00
n Airman Leadership School -- Aug 01 – Sep 01
n Officer Training School -- Sep 02 – Dec 02
n Air and Space Basic Course -- Sep/Oct 03
n Squadron Officer School – Apr/May 09
n Air Command and Staff College – Nov 11 – May 13