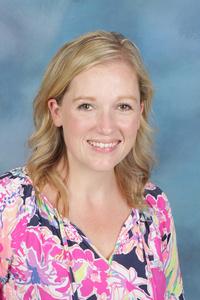 Courses Taught:
Fall 2021:
Spring 2022:
1st period: Microsoft Word & PowerPoint

2nd period: Marketing Applications

4th period:

Microsoft Word & PowerPoint
Credentials Offered:
I am so excited to be a member of the Trinity BULLDOG FAMILY!! I have been teaching at Trinity High School for 8 years; currently, I teach Marketing, AOHT Sustainable Tourism & Hospitality Marketing, Microsoft Word & PowerPoint, and Marketing Applications. I am involved in the THS NAF Academy of Hospitality and Tourism, and I coach the Varsity Girls Golf Team!
I graduated from Appalachian State University (GO 'NEERS!) and majored in Healthcare Management and Human Resource Management. Prior to teaching, I worked in healthcare administration. In my spare time, I love hanging out with friends and family, playing golf, and chasing my 2-year old son around.