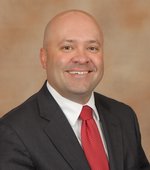 Principal, Dr. Brian Toth
Hello, and welcome to this 2020-2021 school year at Trinity High School. Trinity High School is a traditional ninth through twelfth grade high school, steeped in rich tradition and "Bulldog Pride".

It is my honor to serve in my fifth year as the principal of Trinity High School. I also served as a science teacher and assistant principal here, from 1998-2006. I speak first-hand when I say the students, teachers, parents and community of Trinity are second to none.

At Trinity High School, we seek to maximize the educational opportunities for our students while simultaneously holding high expectations for our students and staff. It is our goal to prepare our students to be competitive in the 21st global society that awaits them after high school.

Our students are encouraged to stretch themselves in core academic classes, career and technical education offerings, and the cultural arts. We invite all of our students to be active in the extra-curricular life of the school, whether it be a club, a student organization, an athletic sport, or another area. We believe through participation and being an active member of our school community, our students will be more successful and develop skills that will benefit them for a lifetime.

Our theme at Trinity High School is to, "dig deeper". As the Trinity Bulldogs, we want to approach the school year with an unrelenting focus and determination as we dig deeper in all facets of our school life- academics, the arts, athletics, clubs, and other co-curricular and extra-curricular opportunities.

At Trinity High School, we believe each and every student can be successful in accomplishing his or her goals and dreams. And, we know the path to accomplishing those goals and dreams begins today. We want to partner with our parents, students, and greater Trinity community to successfully prepare our students, while providing a tremendous high school experience. I invite you to join with Trinity High School in this endeavor.

Please do not hesitate to contact the school if you have questions, suggestions or even concerns about your student's education.

Respectfully,
Brian Toth, Ed.D
Principal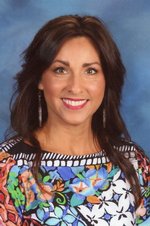 Assistant Principal, Justine Carter
Hello, Bulldog Nation! My name is Justine Carter, and I am delighted to go into my fifth year as the Assistant Principal at Trinity High School. Eleven of my seventeen years in education have been spent at Trinity High School. As an educator and an administrator, I have had the pleasure to witness our school's excellence through a variety of lenses.

I grew up in Jacksonville, NC. After graduating high school in 1997, I moved to Greensboro, North Carolina, where I attended the University of North Carolina at Greensboro. There I received my Bachelor's degree in English Education. After 13 years in the classroom, I decided to pursue administration; in 2016, I was awarded my Master's in Educational Leadership from Gardner Webb University.

I strongly believe in public education. I believe we are blessed to live in a country where regardless of race, gender, ethnicity, and/or wealth all children are entitled to an education. All children are presented with an opportunity to receive college and career readiness instruction so that they can compete in a global, ever-changing society.

At Trinity High School we believe in setting the bar higher today than we did yesterday; thus, our goal for the 2020-2021 school year continues to be "Dig Deeper." I am excited for another school year at Bulldog Nation, where I have the privilege of working with our enthusiastic staff, our spirited students, and our involved parents and community.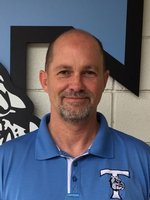 Assistant Principal,
Jim Rogers
As we begin this school year, I am honored to serve the Trinity High School community as an Assistant Principal. Overall, this is the beginning of my 32nd year in public education. For the last 14 years, I have been a part of the staff at Trinity High School as an Assistant Principal for five years and as a Social Studies Teacher and Coach for nine years. My education includes a B.A. in Social Studies Education from the University of West Florida and a Masters in School Administration from the University of North Carolina at Greensboro.

I am committed to serving all stakeholders in the Trinity High School community while promoting the interests of school and community life. Trinity High School has a rich tradition of excellence in academic and extra-curricular activities that I will strive to perpetuate. Thank you for visiting our school website. Please feel free to contact me with suggestions, questions, or concerns.